Post #321 · Posted at 2018-06-07 06:06:50am
2.1 weeks ago
Y&Co. is dead or alive has been revived ala ARENA mode. Its another charts has been replaced with the black another charts from EMPRESS CS.
---
Post #322 · Posted at 2018-06-13 01:42:19pm
1.2 weeks ago
xRGTMx
Moderator

+

6,692 Posts
Reg. 2007-07-19


"BBCode Not Allowed"
New FLOOR INFECTION and POLICY BREAK with SOUND VOLTEX IV HEAVENLY HAVEN from June 15, 2018 to July 2, 2018.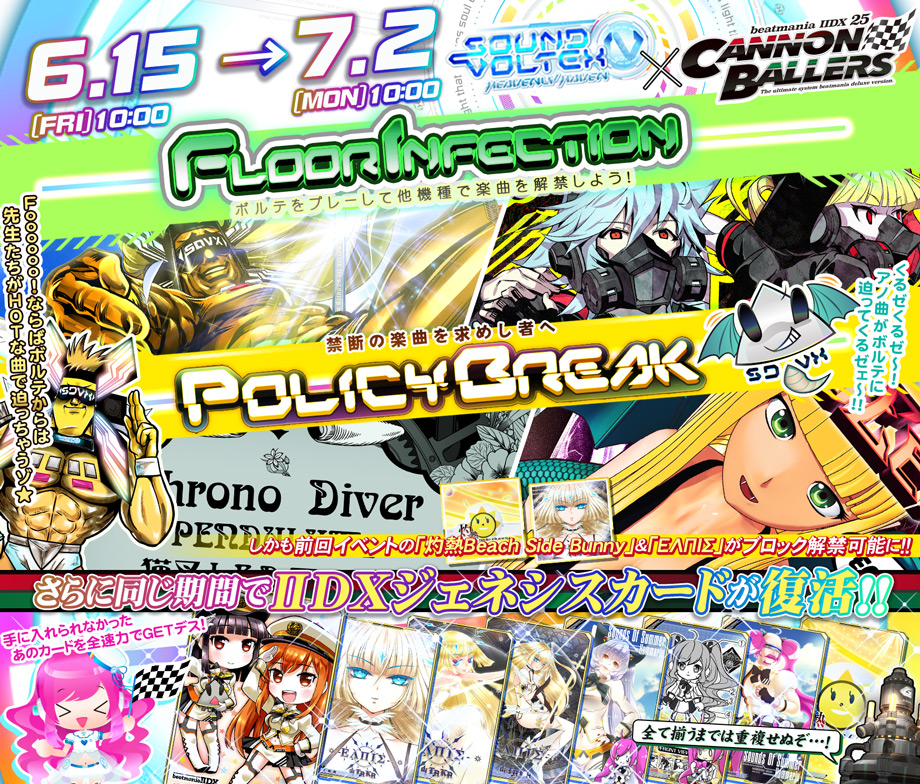 ---
Post #323 · Posted at 2018-06-13 05:24:00pm
1.2 weeks ago
paperpeach
Member
207 Posts
Reg. 2017-04-08


"weenie hut general"
About time we got another FLOOR INFECTION. Don't know if those would have been my first choices, but good to see sky_delta make an appearance in IIDX.

Y'know, last time lapix and C-Show were purely SDVX artists when they got their songs crossed over, and then went on to make a bunch of Konami Originals. Wonder if this is a sign of more things to come.....?
---
Post #324 · Posted at 2018-06-13 06:25:29pm
1.2 weeks ago
chrono
Member
180 Posts

Not Set

Reg. 2015-03-10


Post #325 · Posted at 2018-06-19 06:36:20pm
2.7 days ago
HarmoniaCat
Member
56 Posts
Reg. 2014-12-03


"I like cats... and IIDX!"
3 new songs will be available from the 21st June.
2 Player - Maras K Can be obtained by playing normally.
SUNLiGHT (IIDX Mix) - 日龍 Can be obtained from the RYU Expert course.
LIGHTS ft. EVO+ - lapix Can be obtained from the EMOTIONAL Expert course.
Post #326 · Posted at 2018-06-19 06:46:36pm
2.7 days ago
_|/-\43D
Member
1,724 Posts
Reg. 2011-11-09


0 User(s) Viewing This Thread (Past 15 Minutes)