Post #161 · Posted at 2018-04-24 03:14:10pm
1.9 months ago
Harman Smith
Member
188 Posts

Not Set

Reg. 2017-09-11


"What If You Had A Gun?"
Last updated: 2018-04-24 03:18pm
For Golden Week (4/26), SDVX is getting a LOT.
-HAVOX and INSECTICIDE will be unlockable with blc
-Eight new songs:
--Oriens / ginkiha
--Re:End of a Dream / uma vs. モリモリあつし
--β / BlackY
--Decoy / Yooh
--Arcade Prison / MAD CHILD vs. siromaru
--New Leaf / BlackY vs. Yooh
--RHYZING BEAT / PHQUASE (POLICY BREAK until 5/14)
--Evans / DJ YOSHITAKA (POLICY BREAK until 5/14)
-HVN charts for Insecticide, C18H27NO3, and 放課後ストライド
-Second 7th KAC Genesis Card set
-Steel Chronicle Appeal/Genesis Card sets revival
Post #162 · Posted at 2018-04-24 09:30:38pm
1.9 months ago
xXMokou98Xx
Member
2,317 Posts
Reg. 2010-07-07


"meme school"
holy heck, I love β and New Leaf. Re:End of a Dream is a neat addition as well, Golden Week looking superb
---
Post #163 · Posted at 2018-05-07 12:39:52am
1.5 months ago
hypnoticmarten77
Member

+

689 Posts
Reg. 2014-08-03


"long egg"
Last updated: 2018-05-07 12:42am
This is probably the wrong place to post about this, but I just read this in the
SOUND VOLTEX BOOTH page on RemyWiki.
Quote: SDVX on RemyWiki
A reduced cost version of SOUND VOLTEX BOOTH aimed towards children and lower-income arcades was released in Southeast Asia in early 2018, with major differences.

>The game runs in a converted Otoca♥d'or cabinet, with the control panel almost identical to the SOUND VOLTEX CONSOLE -NEMSYS- Ultimate Model controller.

>The game is run offline, with profiles loaded from QR codes instead of an eAMUSEMENT PASS. Data is saved separately from a regular SOUND VOLTEX profile.

>>In lieu of the eAMUSEMENT Participation fee, operators must add credits from prepaid cards purchased from KONAMI, with one credit used up for each session. If the machine runs out of credits, it locks up until more are added.

>The entire interface is translated into English.

>A slot for a card printer is present under the controls; it is unknown whether a GENERATOR START option will be added in the future or if it is a leftover from the conversion process.
Is this true? I never heard about this until now and I'm really curious to know.
EDIT: Aaaaand I'm stupid. There's already a thread on it.
---
Post #164 · Posted at 2018-05-07 05:17:54pm
1.5 months ago
The beginning of β sounds like something from a boss fight, doesn't it?
Post #165 · Posted at 2018-06-13 01:40:56pm
1.2 weeks ago
xRGTMx
Moderator

+

6,692 Posts
Reg. 2007-07-19


"BBCode Not Allowed"
New FLOOR INFECTION and POLICY BREAK with beatmania IIDX 25 CANNON BALLERS from June 15, 2018 to July 2, 2018.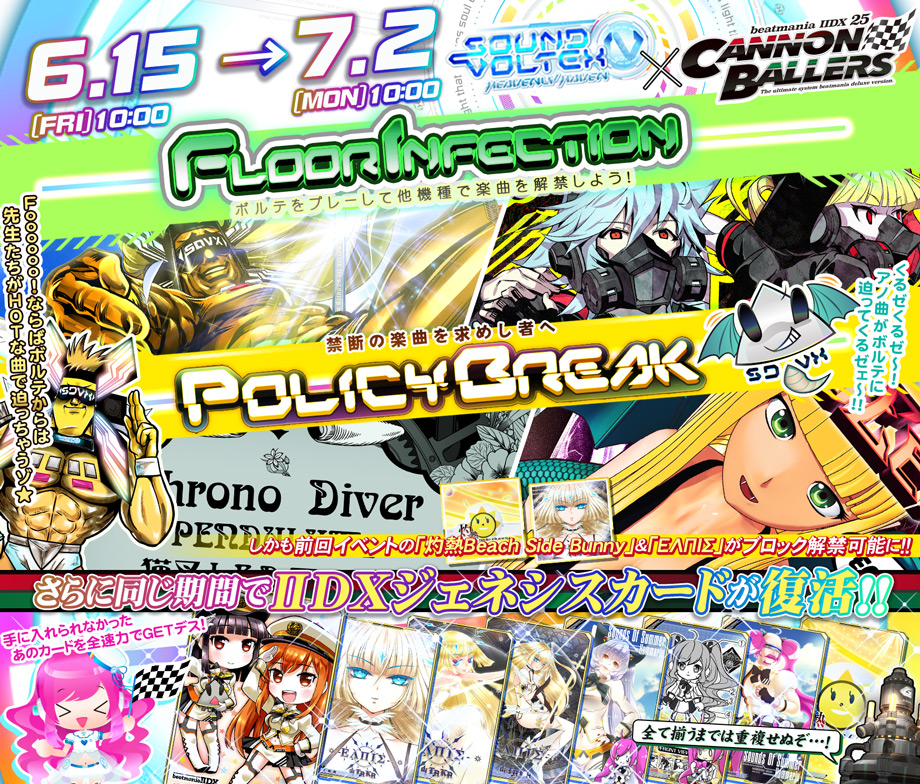 ---
Post #166 · Posted at 2018-06-13 02:14:26pm
1.2 weeks ago
01angel
Member
2,650 Posts
Reg. 2015-11-27


"Happy! Lucky! Smile! Hooray!"
Those IIDX cards are lovely! I'll try to get a few once I play SDVX again~
---
Post #167 · Posted at 2018-06-14 05:38:19pm
1.1 weeks ago
Hey does anyone have any measurement details for a SDVX cabinet? That includes the height of the controller from the floor and the screen display size.

If I ever get the chance to make my own homemade cabinet, the desired measurements above would be useful.
0 User(s) Viewing This Thread (Past 15 Minutes)