Post #1 · Posted at 2020-08-01 04:05:11am
1.8 weeks ago
Last updated: 2020-08-07 02:35pm
Welcome to "PandemiXium Masterpiece" where Music is Art!
Click here to go to the category.
WHAT'S NEW!?
-
50
75 songs are planned for this pack.
-The majority of the pack will come out in 2021 all in one pack, challenge charts and all. So when this thing drops next year, it's gonna drop HARD!
-There will be 5 "Unveilings" with 5 songs each. This means 25 of the 75 songs will be shown, but the other 50 will not be shown until the final release.
-Unveiling songs won't have challenge charts but might in the final release.
-Downloads will use custom ZIPs. This way I can use uncommon text and not have to worry about if Ziv will work with it or not. This also means there won't be a category download, but I'll have downloads for the -Unveilings and of course, the final pack.
-DDR request songs that did not make Weather Report will be in this.
-Difficulty curve has risen to be like modern DDR. So expect more songs in the 13-15 range.
I am always open for song ideas if you have them btw, I would ask sooner rather than later as many songs are already planned for this project.
But don't think I'm letting you all go empty handed, Here's the first song of my most boldest work of art yet!
[EUROBEAT]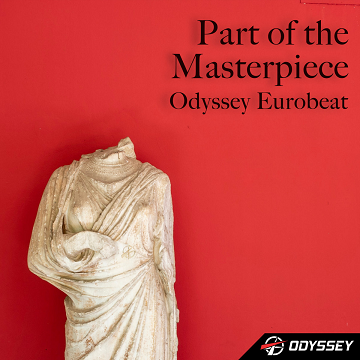 Part of the Masterpiece / Odyssey
BPM: 160

- 4

- 7

- 11

- 13
---
Post #2 · Posted at 2020-08-01 09:56:41am
1.8 weeks ago
Time to hit that subscribe button for me
---
Post #3 · Posted at 2020-08-07 02:35:07pm
6.4 days ago
Last updated: 2020-08-07 02:35pm
The first of five unveilings will be out this weekend.
Bump: I forgot to mention that the new update will be out this Friday
and will only be up for the weekend.
Also if anyone has any song ideas, now would be the time to say them. I got a list of t hings I want to do, so if you have a song idea now, I can put it on the list.
The 5 songs are now live but only for this weekend only, so get them while you can,
Also here's a download pack of all 5 songs.
https://drive.google.com/file/d/1tugPxuOwLxzyJ3K_F02rsSXLLsfllA2j/view?usp=sharing
Also added a category link in the first post.
---
0 User(s) Viewing This Thread (Past 15 Minutes)