Post #61 · Posted at 2020-09-26 07:21:01am
10.3 months ago
Shakunetsu Beach Side Bunny has finally been EXC'd.


---
Post #62 · Posted at 2020-09-26 09:59:07am
10.3 months ago
Last updated: 2020-09-26 10:47am
Nice! I wish I was that good at the game.
---
Post #63 · Posted at 2021-02-17 01:45:21am
5.5 months ago
Now THIS is a random choice for a crossover...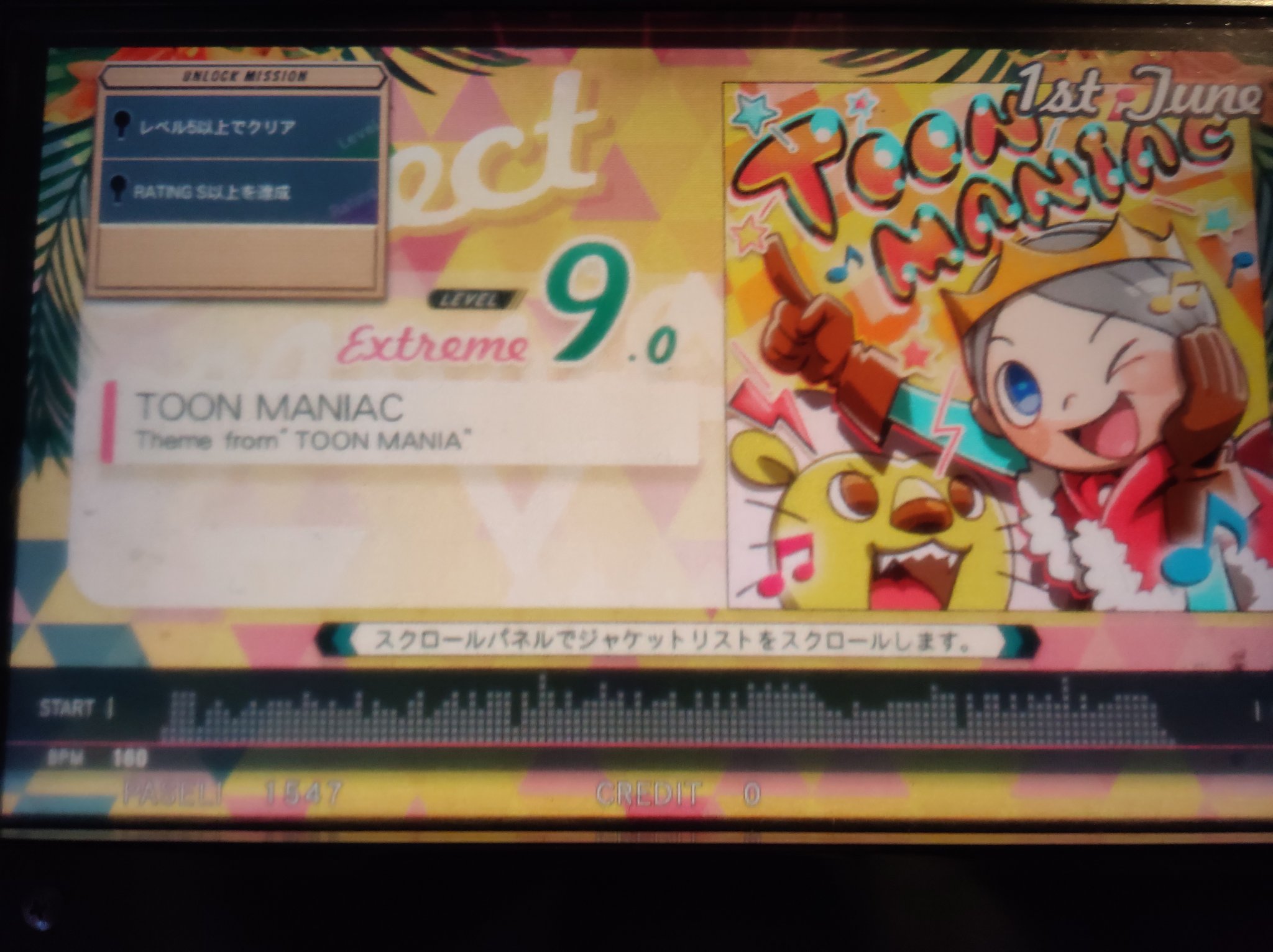 ---
Post #64 · Posted at 2021-07-16 01:14:55pm
2.5 weeks ago
ROUND!
Member
358 Posts

Not Set

Reg. 2017-01-29


Last updated: 2021-07-16 01:17pm
Another purge incoming for licensed songs on August 16. Since festo is now 3 years old a good batch of its initial licenses will disappear.

jubeat copious-
maximum the hormone / マキシマム ザ ホルモン
SUPER∞STREAM
フレンズ
女々しくて ゴールデンボンバー

jubeat Qubell-
零の位相 kradness

jubeat festo-
Be The One / PANDORA feat.Beverly
Boom! Boom! ヘブン / BRADIO
ICHIDAIJI / ポルカドットスティングレイ
MONSTER DANCE / KEYTALK
My HERO 04 / Limited Sazabys
Paradise Has No Border / 東京スカパラダイスオーケストラ
ダンシング / 佐伯ユウスケ
ふめつのこころ / tofubeats
ギラメタスでんぱスターズ / でんぱ組.inc
陽炎 -movie version- / サカナクション
片目で異常に恋してる / ジェニーハイ
タンクトップは似合わない / ONIGAWARA
打上花火 / DAOKO×米津玄師
雑草 / HIKAKIN & SEIKIN

Bummer too I really like Friends, Be The One, and Kagerou movie version.
Post #65 · Posted at 2021-07-21 05:46:45am
1.8 weeks ago
And now, every song from the cancelled 2020 game has appeared in jubeat festo:


---
0 User(s) Viewing This Thread (Past 15 Minutes)