Post #201 · Posted at 2021-09-01 04:36:15am
11.5 months ago
Last updated: 2021-09-01 04:38am
Final Bistrover post-game area will be added tomorrow! This one is going to be in
*with a Trump accent*
CHAI-NA
.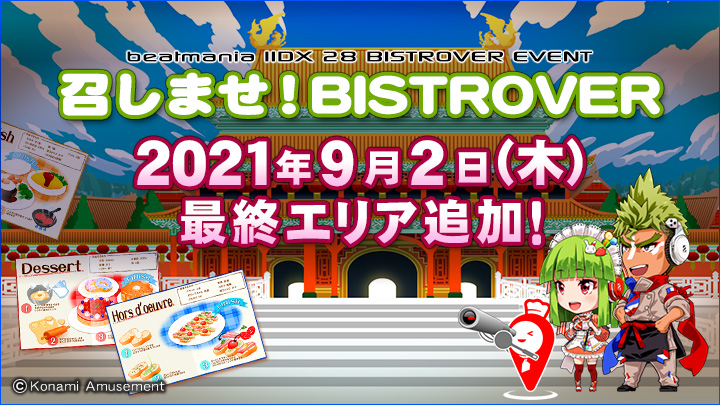 Post #202 · Posted at 2021-09-16 03:18:28am
11 months ago
Silver Spirit
Member
6,498 Posts
Reg. 2008-09-14


"silver spirit? who? i'm moonside"
Post #203 · Posted at 2021-09-16 01:01:25pm
11 months ago
NEMESetup
Member
2,020 Posts
Reg. 2006-12-30


"Gimme a mothaf----n' break!"
I figured SAMURAI-Scramble would get a LEGGENDARIA at some point. That ANOTHER chart always seemed suspiciously light to me.
Post #204 · Posted at 2021-10-11 05:23:19am
10.2 months ago
Last updated: 2021-10-11 05:29am
Think it's time for an obituary for this game, considering we're just 2 days from the launch of CastHour:

Well... there's not too much to say, thanks to the COVID pandemic wrecking everyone's chances (at least, for those outside of Japan/South Korea, anyway) of getting all the songs unlocked. At least we can be thankful that Round1s opened back up (for most of the US) roughly a year after the pandemic started (and especially before CastHour was released, risking everyone's data being wiped), and that Konami doesn't care about us using our Japanese eAmuse accounts to try and catch up with HV unlocks with Paseli. And, apparently my custom frames/combo font/etc. has not been revoked since I last paid for the eAmuse basic sub back in July. Not to mention, even more parts of the interface got translated to English since HV, including the Paseli-related screens we will never see unless we play IIDX in Japan.

Here's to hoping CastHour will be the first version where we will finally get a proper lifecycle for all the benefits that our Lightning cabs have finally given us. And please, Konami, oh pretty please, give us those SDVX Valkyrie cabinets for all Round1 locations, next.

Amen.
1 User(s) Viewing This Thread (Past 15 Minutes)