Post #1 · Posted at 2011-11-18 08:50:39am
6.5 years ago
So I'm currently back home (California) on vacation and wanted to buy some games that I'll take back with me to St. Lucia next week. My cousin took me to this mom and pop game store in North Hollywood and low and behold. Let's just say I creamed myself with joy and excitement. I don't know how I'm gonna take these back with me but shit, here it goes!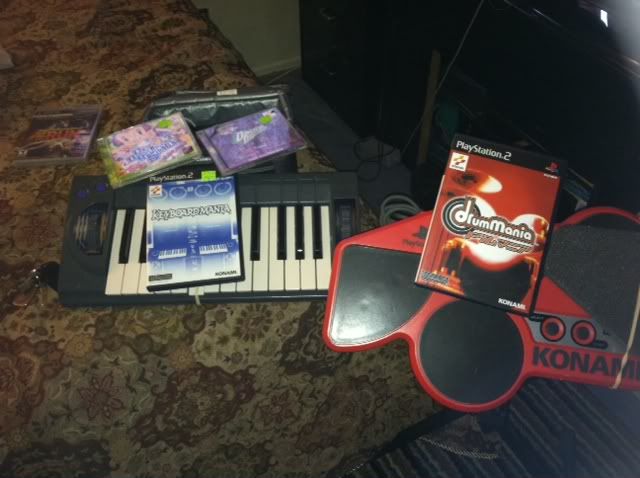 KBM with the keyboard was 60 bucks.
Drummania with the drum was also 60 (but hey, now I can play V2!).
DDR 1st was 10.
DDR 5th was 39.
Some guy apparently got rid off his collection of import goodies. That's what the clerk told me. But yeah, what do you guys think???
---
Post #2 · Posted at 2011-11-18 09:27:50am
6.5 years ago
Ashura96
Member

+

2,803 Posts
Reg. 2008-02-13


"shakeitdon'tbreakit"
Holy shit I am so jealous.

The only import bemani game I've ever purchased in a store was IIDX 5th for 25 a few months ago.

They have a pop'n music 3 for Dreamcast too, but its an APPEND disc...plus no controller.
Post #3 · Posted at 2011-11-18 10:12:45am
6.5 years ago
The KBM is

Now I have someone to play DM with me.

Post #4 · Posted at 2011-11-18 11:08:59am
6.5 years ago
EarthPluto
Member
939 Posts
Reg. 2009-01-19


"For Aiur~!"
OMG OMG THAT RARE KBM CONTROLLER. o.O
---
Post #5 · Posted at 2011-11-18 01:20:07pm
6.5 years ago
KEYBOARDMANIA is really hard. I remember 3rdMIX having having a beginner's mode with less keys.

I remember playing DDR 5thMIX a long time ago at arcades but I specifically remember them running at 60 frames. The CS version runs a lot slower. I don't know if playing it on an actual PS1 will make it run faster cause I only have a PS2. First I tried it on a HDTV and its pretty choppy. Playable but it ran like EXTRA MIX on down. Then I went and moved my PS2 to an old tube SDTV, still ran below what the arcade version did. Also the song list screen is very choppy, the system has a hard time rendering the scrolling song wheel.
---
0 User(s) Viewing This Thread (Past 15 Minutes)