Post #1 · Posted at 2012-03-18 11:57:23am
2 years ago
Last updated: 2012-03-18 11:57am
I don't know if this was asked in the past, but I was wandering if you can make a "song difficult" sorting (by foot level), and "missing dance points". This feature was on DDRecall. Those would be very nice.
---
Post #2 · Posted at 2012-03-18 06:23:23pm
2 years ago
Last updated: 2012-03-18 06:23pm
Sort by level is already possible ...
I cannot sort by "missing" dance points though. Just search in your browser to look for those.
Post #3 · Posted at 2012-03-19 12:34:40am
2 years ago
Oops, my bad! I didn't checked in that area. Thank you anyway!
---
Post #4 · Posted at 2012-03-21 06:31:13am
2 years ago
I know Carlitos asked for song sorting, but I would like to request leaderboard sorting:
Quote: al2k4 from "What about DDR timing windows on an ITG cabinet?"
Any score with proof automatically over takes any score without proof in the rankings so there really isn't an issue here.
I can see that you did that for pics, but what about video links? I am wondering if that could be positioned at the top as well.
Also, you know how you have automatic links to picture proof in the feed for recently posted scores? I would love to have video links be treated the same way as well.
Look at me at the bottom.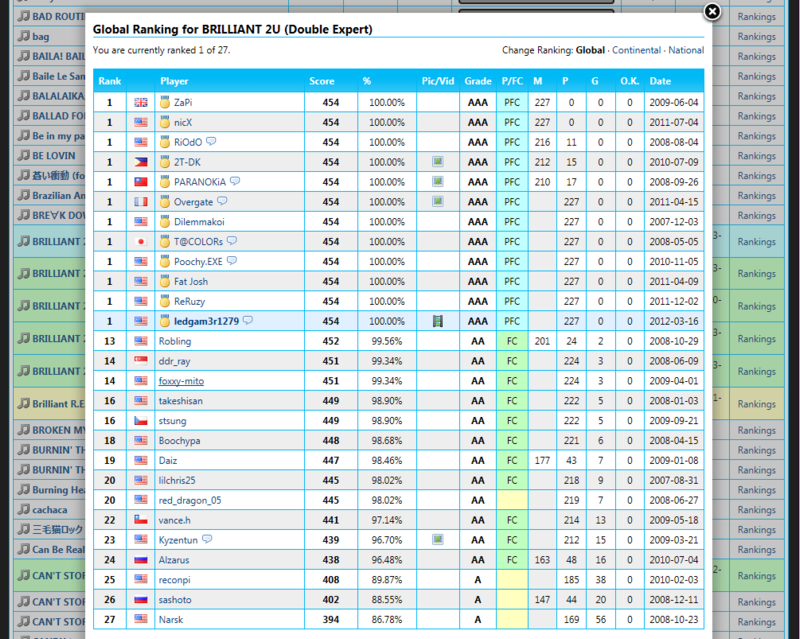 ---
Post #5 · Posted at 2012-03-21 06:39:51am
2 years ago
Post #6 · Posted at 2012-03-21 07:33:57am
2 years ago
Wow, that was quick. Thanks!
---
0 User(s) Viewing This Thread (Past 15 Minutes)