Post #1 · Posted at 2011-05-19 04:17:27am
2.9 years ago
Hi.
So, like 1 month ago, the green pad from my PS2 Rock Band drum set was kind of broken, I had to put some things under it so it could be at the level of the rest of the pads, and that's how I could play. Until one day, it completely broke, luckily, the wire connected with the rest of the pads was still there, until yesterday, when the wire cut when I accidentally threw the drum set to my bed lol.
Here are some pics to explain myself better: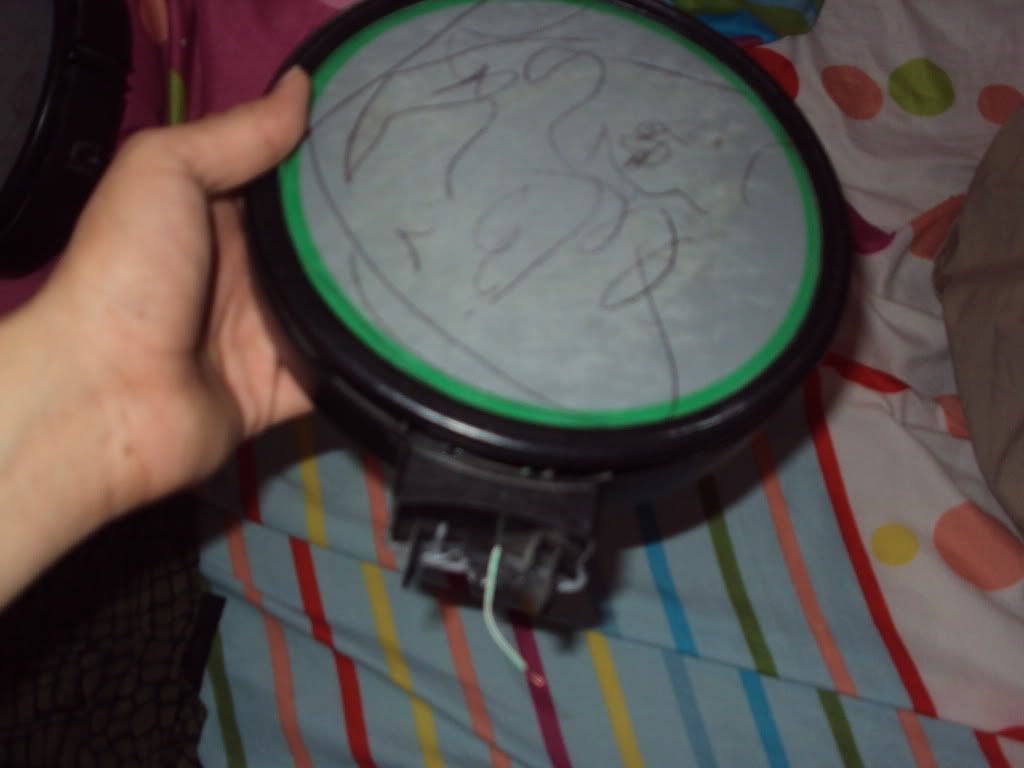 I got a glue, which I think it can join the pad with the drum set again. But the problem is, how do I join the wire? Is there any solution for it?
Thanks

---
Post #2 · Posted at 2011-05-19 04:54:01am
2.9 years ago
If you've got electrical knowledge, just strip the wires and bridge them using a couple of extensions. Then I would personally make some sort of screw bridge or something out of metal or plastic to hold it together, as glue IMO would probably just break again.

---
Post #3 · Posted at 2011-05-19 05:00:15am
2.9 years ago
I don't have electrical knowledge

. Could duct tape work?
---
Post #4 · Posted at 2011-05-19 06:31:00am
2.9 years ago
Well you can do it without electrical knowledge but I've encountered problems with those stupid cables myself, I tried putting headphones back together but just ended up throwing them out, hah.

All you need to do is snip the wires a little bit, twist a new wire in between the ends of it as a bridge/extension, and then duct tape the parts where you bridged them (to prevent short circuits)


---
Post #5 · Posted at 2011-05-19 06:04:49pm
2.9 years ago
silenttype01
Member

+

7,677 Posts
Reg. 2007-01-19
603.1pts


"posting the pokemon fan lore"
AF 2014 SCORE
972,140
There's this member at the Rock Band forums that specializes in voiding the warranties to look inside the peripherals, while modding them. He may be able to help out with this issue.
http://www.docsrockbandmods.net/
Just sign up to his forums, and post in the drums section for help. Hope this helps.
---
0 User(s) Viewing This Thread (Past 15 Minutes)